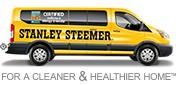 Cleaning Technician
2019-06-19 Stanley Steemer Confidential
Description:
STANLEY STEEMER is now hiring CARPET CLEANERS. Full time. No experience necessary. Valid driver's license and background check required. Call 567-356-9776 or email michael.karbowiak@steemer.com.
Job Duties (including but not limited to):
To assist the Crew Chief in all duties necessary to provide quality carpet and upholstery cleaning; or tile and grout cleaning.
Set up the van at the job site using the proper set-up procedures.
Productively and safely move furniture to prepare the home for cleaning.
Assist in cleaning when Crew Chief is performing other job responsibilities.
Apply protection and deodorizers; or agents and color seal to carpet and furniture or tile and grout.
Wipe all baseboards.
Finish out carpeting (rake) after cleaning and other services.
Account for and return all cleaning tools and cleaning agents, hoses, chemicals, etc. to the truck before departure from the customer's home.
Clean vehicle at end of each day.
Proper inventory of blocks, pads, spotting agents and retail items on truck.
Inform customers about and sell retail items.
Uphold all company safety policies.
Assist in backing of van using proper backing procedure.
Uphold all company policies and procedures.
Physical demands:
The physical demands described here are representative of those that must be met by an employee to successfully perform the essential functions of this job.
While performing the duties of this job, the employee is regularly required to stand; walk; use hands; reach with hands and arms; climb or balance; stoop, kneel, crouch, or crawl and talk or hear. The employee is required to drive or ride in a cleaning van or other vehicle. The employee is occasionally required to sit. The employee must occasionally lift and/or move up to 50 pounds.
Do not contact this company in solicitation of any product or service.